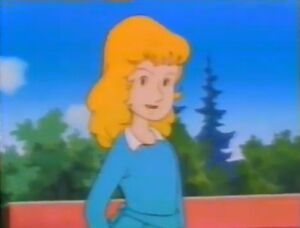 Olivia is one of the main antagonists of the show.
Olivia told Sandy Brown, Mark and Emily to meet her in a park where she gave them all invitations to a party she was throwing to celebrate her very first appearance on television.
During the party Sandy is able to get onto the local news, before Olivia makes her television debut, which makes her very upset that she wasn't first.
Personality

Edit
Phyiscal Description

Edit
Relationships

Edit
Ad blocker interference detected!
Wikia is a free-to-use site that makes money from advertising. We have a modified experience for viewers using ad blockers

Wikia is not accessible if you've made further modifications. Remove the custom ad blocker rule(s) and the page will load as expected.