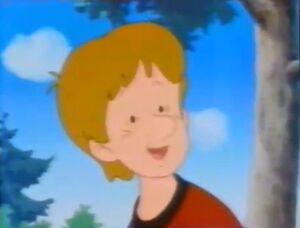 Mark is Sandy Brown's best friend.
Mark teases Sandy about her always having Blinky around.
When he happens to catch a glimpse of Pinky and Grandma Brown flying through air one day, he mistakes them for a "space man."
On one occasion Mark exclaimed that Emily would never make it on TV because she just isn't attractive enough.
When Mark and Sandy were both informed by Mr. Malisse that they were selected to enter the school art contest Mark decides to draw some flowers from his mother's flower shop, but when they begin to lose ther petals as he drawing them he has to change his plan.
Mark decides to do a little spying on Sandy to make sure she's isn't going to out do him in the art contest. He starts snooping around Sandy's backyard and Kelly informs him that Sandy isn't around.
Personality

Edit
Phyiscal Description

Edit
Relationships

Edit