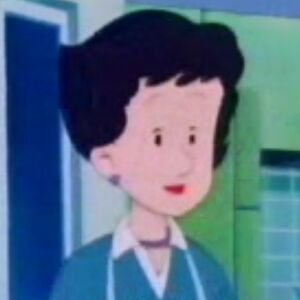 Kelly Brown is one of the main protagonists of the series and Sandy Brown's mother. She works as a reporter.
Kelly Brown almost discovered that Pinky and Blinky were living creatures when Grandma Brown came over to look after Sandy.
When Sandy is chosen for the school's art contest she chooses to ask her mother to be a model for her. Being very flattered by her daughter's request she changes into an extravagant dress, deciding to go all out for the project. When Sandy sees her all dressed she tells her that is not what she had in mind and she changes back into normal attire.
While being drawn she can't sit still and forces Sandy to find soemthing else to draw for the art contest.
Personality

Edit
Phyiscal Description

Edit
Relationships

Edit