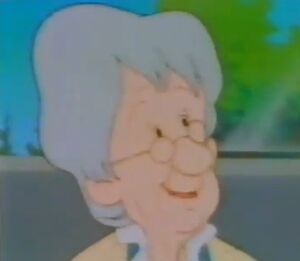 Grandma Brown is Sandy Brown's grandmother.
Blinky was delivered to Grandma Brown, who in turn gave him to Sandy Brown.
Kelly Brown asked Sandy's grandmother to look after Sandy while she was away on business. After getting lost on the way to Kelly's house, by giving the taxi cab driver the wrong directions, she arrives over a half-hour late and mistakes Mark for a burglar upon arrival. Later that afternoon she hears Sandy and Pinky making a loud fuss up in her bedroom and when she opens the door to investigate she meets both Pinky and Blinky for the first time, uncovering Sandy's closely guarded secret. Grandma takes the news incredibly well, calling it a miracle.
Because Pinky was always mean to humans she promised to be very nice to grandma and just to make sure of it grandma asked her if she's do some chores around the house. What Pinky didn't know is that she was playing a trick on Pinky in order to get her to transport her to a resort her husband Benjamin had built before he disappeared. She offered to stop ordering Pinky to do chores and then cook her a very nice dinner if she agreed. After Pinky agreed it was revealed that her ability to transport them back home relied on Blinky being able to stay awake. This almost got them lost.
When grandma and Pinky return from the resort she gets the impression that Kelly won't be back until morning and decided to have a party. This turns out to be a bad idea when Kelly returns home early and discovers that Pinky and Blinky are alive.
Personality

Edit
Phyiscal Description

Edit
Relationships

Edit